A festival collection typically refers to a set of clothing, accessories, and other items that are designed and marketed specifically for a particular festival or occasion. These collections can range from traditional clothing for religious or cultural festivals to more modern and trendy options for music festivals or other social events.
Festival collections often incorporate unique and vibrant colors, patterns, and designs that are associated with the specific festival or occasion. For example, a Diwali festival collection may feature traditional Indian clothing such as sarees and lehengas in bright colours such as red, gold, and green, adorned with intricate embroidery and embellishments. Similarly, a festival collection for a music festival may feature bohemian-style clothing such as flowy dresses, denim shorts, and graphic t-shirts with bold prints and patterns.
Festival collections may also include accessories such as jeweler, hats, sunglasses, and shoes that complement the clothing and complete the festival look. Overall, festival collections are a way for people to express their style and creativity while embracing the spirit and culture of the festival or occasion they are celebrating.
A gold basket with a handle is a decorative or functional basket made of gold-cultured materials and designed with a handle for easy carrying or display. The basket can be made of various materials such as metal, plastic, or woven materials and coated or painted in a gold color or made of actual gold. Gold baskets with handles are popular decorative items for weddings, parties, and other special occasions. They are often used to hold flower arrangements, decorative items, or as gift baskets for presenting small items such as chocolates, candies, or small gifts.
In addition to their decorative use, gold baskets with handles can also be functional items used for carrying or storing small items. For example, a small gold basket with a handle can be used to store jewelers or trinkets, or to hold small household items such as keys, coins, or stationery. Overall, a gold basket with a handle is a versatile and stylish item that can be used for both decorative and functional purposes.
A white basket with a handle set refers to a collection of baskets that are designed with handles and made in a white colour. These baskets can be made of different materials such as wicker, plastic, or metal, and can have different sizes and shapes.
White baskets with handle sets are popular for use as storage and organisation solutions in homes, offices, and other settings. They can be used to store and organise various items such as books, toys, clothes, towels, and other household items.
These baskets can also be used for decorative purposes, such as displaying plants or flowers, holding decorative items, or for gift-giving. For example, a set of white wicker baskets with handles can be used to hold and display potted plants or flowers in a garden or patio setting, while a set of white plastic baskets with handles can be used to hold party favor's or gifts at a special event. Overall, a white basket with a handle set is a versatile and practical item that can serve multiple purposes in various settings. They are stylish and easy to carry, making them a great addition to any home or event.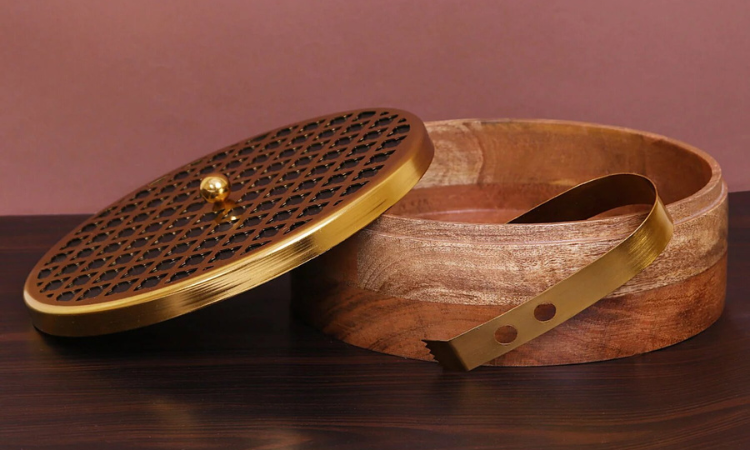 A carved mango wood and metal roti box is a traditional Indian food storage container that is designed to keep roti, which is a type of flatbread, warm and fresh. The roti box is typically made of carved mango wood with a metal lining and is often decorated with intricate designs and carvings.
The box typically has a flat base with a lid that fits snugly over it, creating a sealed container that can help to keep the roti fresh and warm. The metal lining helps to retain heat, while the carved mango wood exterior provides insulation and adds to the decorative appeal of the box.
Roti boxes are commonly used in Indian households and restaurants to store and serve roti. They are also popular as decorative items and can be used to add a touch of traditional Indian style to any home or kitchen.
In addition to their use for storing roti, carved mango wood and metal roti boxes can also be used to store and serve other types of bread or food items, making them a versatile and functional item to have in any kitchen.