Using Table Mats at the dining table is a more useful factor for most of us, But if you take Tablemats seriously, they can be best home decor items decorative element for your dining table. Table mats are not just for your home or restaurant table. You can use the mat in your bedroom, living room, corner table, etc.Table mats improve your dining experience, bring some humor, and brighten your dining space. Keeping your dining table from stains and damage is the main goal of table mats. You may also use them to decorate your space by bringing in some prints.This Blog may help you how can you buy the best table mats for you.

How To Choose the Best Dining Table Mats
Dining mats are an element that improves the delight of dining with loved ones. Therefore, it's crucial to choose the appropriate table mat for you. Your interior design and your house are reflections of who you are. In order to set your interior design apart from the competition, bear the following considerations in mind while choosing your table mat:
i) TABLE ACCESSORIES THAT MATCH
Your table mats can be paired with additional tableware, such as trivets for an added touch of oddity, a tablecloth for a lovely backdrop, or a runner for an extra dash of fun.
ii) DESIGN
At any dinner table, a well-designed dining table mat provides for a great conversation beginning and ups the excitement level.Choose a design that makes you beautiful and happy.Keep in mind that the design should complement the style of your dining area, as well as the dining accessories and furnishings, particularly the dining table. A tropical table mat would look great in a lighter, more minimalist dining room, while a cultural table mat would look great in an ethnic-themed dining room. Due to their distinctive qualities, some individuals also favour attractive table mats.
iii) Colors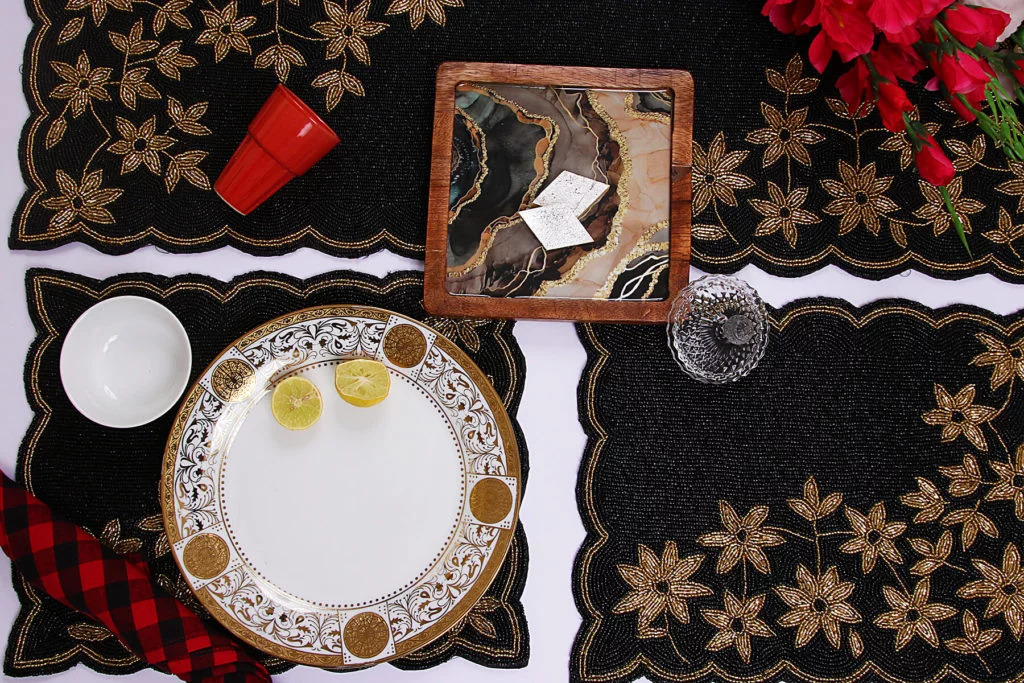 Another important factor in enhancing a room is colour. Make sure the colours of your dining table and your table mat contrast or complement. But remember not to be too contrasting. Standing out is good, but not so much that you can't blend in well with your environment. Also, make sure the table mat you choose is suitable for the type of cutlery you are using.
iv) FUNCTIONAL
Make sure your table mats are easy to clean and stain resistant when choosing them to ensure that they last you for a long time. Choose something that is timeless, sustainable, and usable in a world where products and trends change swiftly. If the dining table is glass. The glass will shatter if placed on top of a hot pot or pan, so make sure your placemat can withstand the heat.
Please check whether the placemat is moisture-proof according to the weather.
v) GOOD QUALITY
Ensure that the materials used to create your table mats are of high quality. The table mats may initially cost a little bit more when the basic materials are good, but they will last you longer. Table mats of good quality don't scuff easily. As a result, they will seem expensive and last longer while performing well.Indian Artisans deliver table runners and mats in pure cotton, polyester, or cotton blends that will retain the original color even after washing. They will bring a contemporary yet rustic vibe to your home and dining room with the help of their vibrant colors and natural fibers.
At Indian Artisans, we ensure that our customers should find the best collection of dining or coffee table placemats and runner sets. With millions of products for display on our website, we will assist you in finding an ideal solution according to your style and home aesthetics. Some table placemats and runners are based on natural designs like floral, while others are abstract or geometric designs.